Trinova and Stars REI Complete Hat Trick of Mayfair Office Lettings
Trio of Tenants Sign for Mount Street Office
BY PAUL NORMAN, COSTAR NEWS.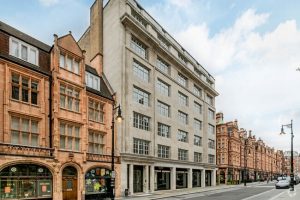 Trinova and Stars REI have let three floors at 103 Mount Street in Mayfair.
Chilean mining company Antofagasta has taken the 4,000-square-foot first floor on a 10-year lease as its new London offices. HNG advised.
Private investment banking advisory firm Ardea Partners has taken the 4,085-square-foot second floor, also on a 10-year lease – relocating from nearby Conduit Street. Knight Frank advised.
And Naya Capital Management most recently completed its letting of the fifth floor, totalling 4,208 square feet, also for a 10-year term. Again Knight Frank advised.
The last remaining space, comprising 4,033 sq ft refurbished pace on the sixth and top floor of the building, will be coming to market shortly.
103 Mount Street was bought in July 2020 by Trinova and Stars REI from Meyer Bergman. Located close to the Connaught Hotel and Berkeley Square, it is occupied on the ground floor by French luxury fashion brand Celine, with data centre operator Zenium Technology Partners and Connaught Investments (trading as Alitas) occupying the Third and Fourth Floors, respectively.
Mike McCarrick, Head of Asset Management at Trinova said in a statement: "Securing new leases for 50% of the 103 Mount Street office accommodation across three deals and at good rents, all in the past six months, is a very positive sign that occupiers still value having a presence in high quality Mayfair office buildings."
Cristina Dawson, Head of Asset Management at Stars REI added: "We bought a largely vacant office building in the heat of Covid-19 because the quality of the product and location is timeless. These lettings confirm our thesis and provide momentum for our continued success with this asset."
Trinova and Stars REI were advised by Montagu Evans and BDG Sparkes Porter.
https://www.costar.com/article/1822996902/trinova-and-stars-rei-complete-hat-trick-of-mayfair-office-lettings