Peugeot Invest Pulls up for Final Floor at Trinova and Stars REI West End Offices
Peugeot Invest Letting Takes 103 Mount Street to Full Occupancy
BY PAUL NORMAN, COSTAR NEWS.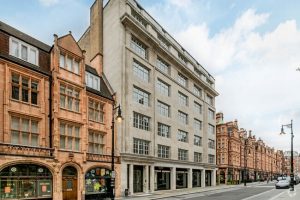 Trinova and Stars REI have leased the last remaining office floor at 103 Mount Street in London's West End to Peugeot Invest, the investor connected to the famous French car group, completing the leasing of the four recently refurbished office floors at the property.
Peugeot Invest is taking the 4,033-square-foot sixth floor on a 10-year lease. The letting follows recent lettings to Antofagasta, Ardea Partners and Naya Capital Management.
103 Mount Street occupies a prominent position on Mount Street at the heart of Mayfair, close to the Connaught Hotel and Berkeley Square. Other office occupiers include Zenium Technology Partners and Connaught Investments (trading as Alitas).
Mike McCarrick, head of asset management at Trinova, said in a statement: "We are delighted to have secured such a high calibre occupier for the newly refurbished 6th floor so quickly after completion of the refurbishment, which is testament to the quality of the overall offering at 103 Mount Street".
Cristina Dawson, head of asset management at Stars REI, added: "Peugeot Invest is the ideal top floor tenant to occupy our final office vacancy, further validating our belief in the attractiveness of Mayfair, Mount Street and ultimately this building."
Peugeot Invest is one of the main shareholders of Stellantis and Faurecia through its subsidiary, Peugeot 1810. Drawing on its industrial experience, it has developed an investment activity in diversified assets, composed of direct minority stakes, private equity vehicles, co-investments and real estate.
Trinova and Stars REI were advised by Montagu Evans and BDG Sparkes Porter.