Trinova's 103 Mount Street: New Home for Maison Goyard's UK Flagship Store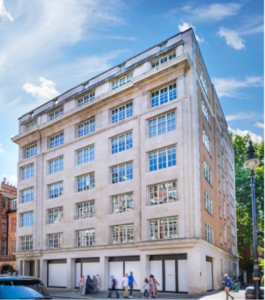 Trinova are excited to announce that Maison Goyard (Goyard), the exclusively sought-after luxury French goods and leather trunk maker, is relocating to 103 Mount Street, Mayfair, London, to launch its new flagship UK store.
Goyard has been the purveyor to Royalty and Presidents, with the brand letterhead in 1891 featuring the coats of the arms of the British Royal Family and the Great Seal of the United States of America.
Goyard is upsizing to the new 7,100 sq. ft ground floor retail unit in 103 Mount Street on a 10-year lease store to enable it to display all its product range and provide a curated customer experience.
Trinova, on behalf of Stars REI, acquired the property in July 2020, in the peak of the pandemic, from Meyer Bergman.
Mike McCarrick, Head of Asset Management at Trinova, said in a statement: "Securing this lease with a reputable fashion house like Goyard showcases the resilience of West End luxury retail even during a period of economic uncertainty. Thanks to the proactive leasing discussions from all parties, we were delighted to be able to finalise the lease to this prestigious operator in a very short timeframe."
Cristina Dawson, Head of Asset Management at Stars REI, commented: "Since acquiring this asset in the summer of 2020, we have seen incredible demand for its spaces which have mostly become available because of the pandemic. While many other retail corridors continue to struggle, the distinction of a Mount Street presence has persevered. We are delighted to welcome Goyard to its new, larger home at 103 Mount Street."
Paul Souber, Head of London Retail at Colliers, additionally commented: "Goyard is an incredible luxury house with a unique ability to create desire around its products and 103 Mount Street will enable the business to provide an exceptional client experience, fully display its product range whilst occupying one of the finest stores in Mayfair."
https://product.costar.com/home/news/944544372?tag=18< /a>
BY PAUL NORMAN, COSTAR NEWS.